Management and interpretation of cytological examinations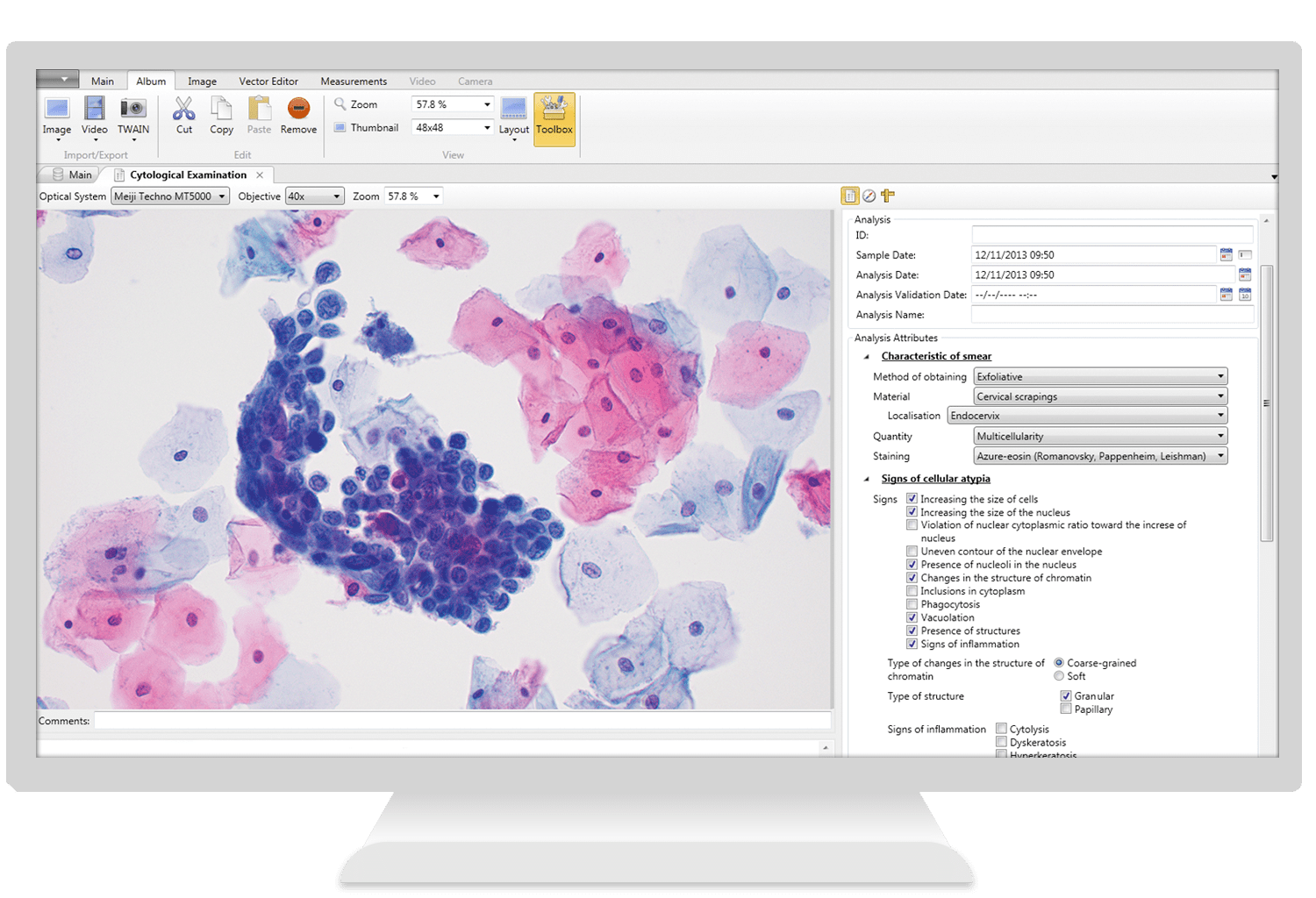 Description
The automation and standardization of laboratory analyses reduce the personnel workload, optimizes the working process and increases the quality of cytological analysis.
Vision Cyto® scans samples, captures the fields of view required for the analysis and presents them as a gallery. The resulting images are then analyzed and described by a doctor using an embedded cytological examination algorithm.
Main characteristics

A gallery of analysed areas of cytological sample
A pre-set algorithm for cytology analysis
A pre-set cytological atlas
Pre-set cytological album for diagnosis reference
Database for archive management
Remote access and network capabilities
Bi-directional communication with LIS
Sample analysis
Characteristic of smear
Method of obtaining
Fine-needle aspiration biopsy
Endoscopic biopsy
Exfoliative
Excisional biopsy
Material
Exudate
Lung
Breast
Thyroid
Lymphaglands
Organs of urogenital system
Cervical scrapings
Quantity
Satisfactory
Unsatisfactory
Staining
Azure-eosin
Papanicolaou
Hematoxylin-eosin
Signs of cellular atypia
Signs:
Increasing the size of cells
Increasing the size of the nucleus
Violation of nuclear cytoplasmic ratio toward the increase of nucleus
Uneven contour of the nuclear envelope
Presence of nucleoli in the nucleus
Changes in the structure of chromatin
Proliferative activity
Attributes:
Presence of multinucleated cells
Characteristic of cells
Differentiated features
Squamous
Glandular
Urothelial
Characteristic of nucleus
Signs of dystrophy and necrobiosis:
Characteristic of nucleolis
Characteristic of background
Additional features
Cell morphology in human body fluids
Count and classification of cells and elements
Colour indication of cell type in body fluids
Marks on areas with pathology
Add text comments to human fluid digital samples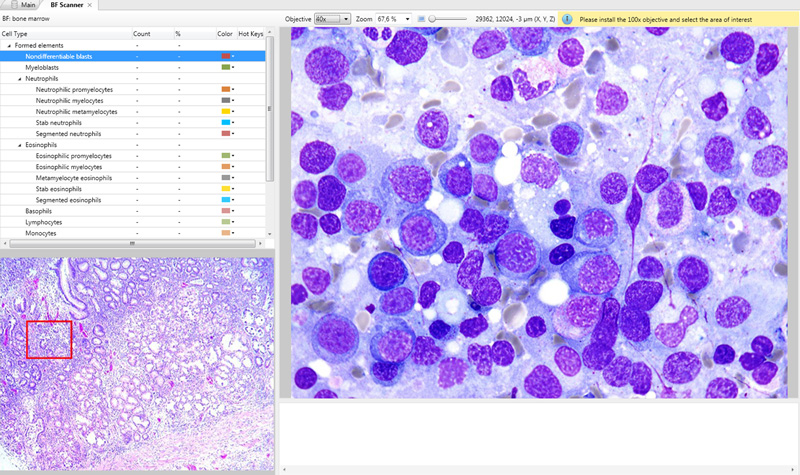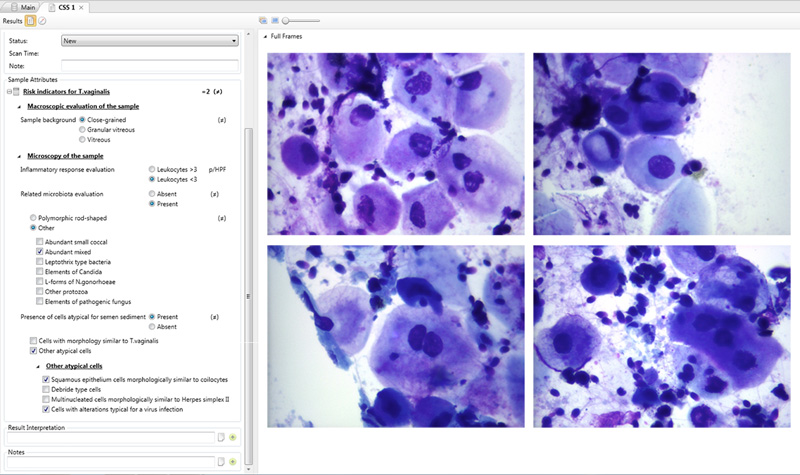 Sperm sediment analysis
Analyse latent trichomoniasis, fungal, HPV infections, disbiosis and etc.
Аnalysis algorithm for examination based on cell's morphological markers
Automatic calculation of CSS (Cytology of Sperm Sediment) index
Remote access to analysis results
Additional workplaces to improve efficiency
Quick access to analysis results
Quality control and monitoring of laboratory workflow
Increase in laboratory throughput
Expert opinion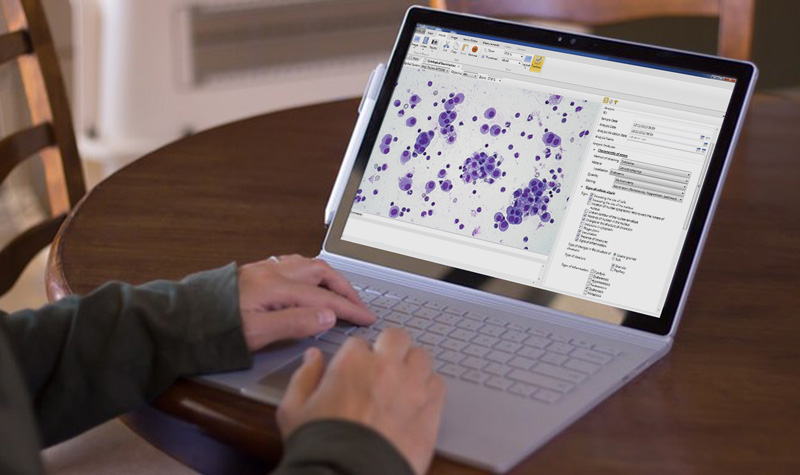 Download
Compare Vision Cyto systems
Select a system optimal for your laboratory workload.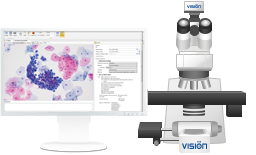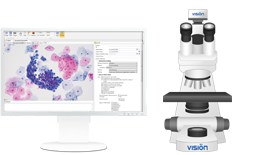 Vision Cyto Assist

Vision Cyto 4Pro

Vision Cyto 8Pro

Vision Cyto Ultimate

Field of view selection

Automatic

Automatic

Automatic

Automatic

Number of simultaneously loaded slides

1 slide

Up to 4 slides

Up to 8 slides

Up to 200 slides

Algorithm for cytology analysis

Pre-set

Pre-set

Pre-set

Pre-set

Cytological atlas

Pre-set

Pre-set

Pre-set

Pre-set

Cytological album for diagnosis reference

Pre-set

Pre-set

Pre-set

Pre-set

Loading of slides

Manual

Manual

Tray loading

Automatic

Integrated barcode reader

—

—

Optional

Included

Immersion oil supply

Manual

Manual

Manual / automatic (optional)

Automatic

Connection to LIS

Bi-directional interface

Bi-directional interface

Bi-directional interface

Bi-directional interface

Remote access

Optional

Optional

Optional

Included
Vision Cyto Basic

Vision Cyto Basic AF

Field of view selection

Manual

Autofocus and manual

Number of simultaneously loaded slides

1 slide

1 slide

Algorithm for cytology analysis

Pre-set

Pre-set

Cytological atlas

Pre-set

Pre-set

Cytological album for diagnosis reference

Pre-set

Pre-set

Loading of slides

Manual

Manual

Integrated barcode reader

—

—

Immersion oil supply

Manual

Manual

Connection to LIS

Bi-directional interface

Bi-directional interface

Remote access

Optional

Optional
Characteristic
Vision Cyto
Assist
Vision Cyto
4Pro
Vision Cyto
8Pro
Vision Cyto
Ultimate
Automatic field of view selection
•
•
•
•
Loading of 1 slide
•
•
•
•
Loading up to 4 slides
•
•
•
Loading up to 8 slides
•
•
Loading up to 200 slides
•
Pre-set algorithm for cytology analysis
•
•
•
•
Pre-set cytological atlas
•
•
•
•
Pre-set cytological album for diagnosis reference
•
•
•
•
Manual slide loading
•
•
Slide tray loading
•
Automatic slide loadling
•
Manual immersion oil supply
•
•
Automatic immersion oil supply
•
•
Connection to LIS
•
•
•
•
Remote access
•
•
•
•
Characteristic
Vision Cyto
Basic
Vision Cyto
Basic AF
Manual field of view selection
•
•
Autofocus
•
Loading of 1 slide
•
•
Manual slide loading
•
•
Manual immersion oil supply
•
•
Connection to LIS
•
•
Remote access
•
•